Finance options to suit you
Start your dental treatment now!
We can provide loans from £1000 - £25,000 with a repayment plan to suit individual needs.


Teeth implants abroad – in Budapest, Hungary
Forest & Ray is a dental tourism company that has specialized in dental implants abroad since 2007. We operate a dental clinic in Budapest as well as London. This is why we can offer dental treatment abroad, dental lab work and dental implants abroad at the most competitive prices available. We strive to make sure that both our London and our Budapest dental clinics are patient centred, up to date and staffed with only the best, GDC certified, caring healthcare professionals who always maintain a patient-first attitude. They will provide you with a treatment plan that simply cannot be beat, as top quality dental treatments will be paired with an affordable dental treatment abroad or in London.
In order to stay at the cutting edge of our business, we must reach across cultures, which is why we have a multilingual customer care centre who can book you an appointment in either Budapest or London. Our Budapest dental clinic is certified, liable for its work and is a safe and affordable dental holiday destination.
At Forest and Ray, we can guarantee the following:
We only work with dentists who have been GDC-certified: this goes for London AND Budapest.
We will provide you with a flexible treatment plan, which lists all items and procedures separately, and includes a price that you can hold us to: no hidden fees, no nonsense.
Our reception and customer care staff are friendly, multilingual and patient-centred.
Our Budapest prices simply cannot be beaten, without compromising any of the quality, AND we provide after care and check-ups in London.
We give guarantees and warranties for all of our dental work, regardless of where the work was performed.
We provide a safe and well-organised dental holiday, complete with accommodation, rides to and from the clinic, and a representative whom you can call at any time if you have a problem or need assistance
Forest and Ray is so much more than just a dental implant center. We arrange dental holidays to Budapest, the worlds number 1 dental holiday destination, and we operate our dental clinic and our own laboratory in London! If you are looking for quality and accountability at an affordable price, look no further!
Budapest is just 2 hours away, and it is a wonderful place. Get your beautiful smile in the Hungarian capital for a fraction of the price you would otherwise pay, while visiting one of the most interesting cities in Europe, full of history, culture, nightlife and an eclectic and remarkably unique atmosphere.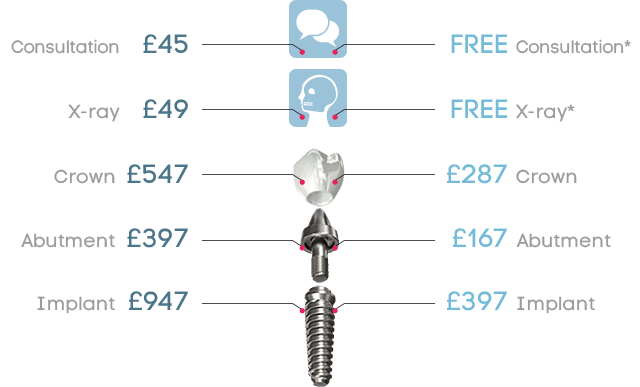 Registration
Register for dental checkup!