Simona Polizzi's testimonial about her dental treatment in Budapest
Background story:
Simona Polizzi came to our clinic with a complex dental problem: she had several missing permanent teeth (they did not even grow in the first place). Instead, she still had her deciduous teeth, or they had also been removed and she had gaps. In addition, she had serious crowding. She already had treatment in Italy but she was not satisfied with the result. During that treatment, several implants were placed into her mouth and at the same time she got braces as well. The position of the implants was not suitable, therefore the orthodontic treatment was unsuccessful.
At Forest & Ray, we offered her another treatment plan. During the execution of said treatment plan, we removed the implants placed earlier into the upper jawbone, and made a full zirconium bridge. In accordance with the plan, the patient received a temporary bridge for a year. We waited for the lower jawbone's orthodontic treatment to finish so that we could guarantee a perfect bite with the new bridge. The patient returned a year after the placement of the temporary bridge to finish the permanent bridge.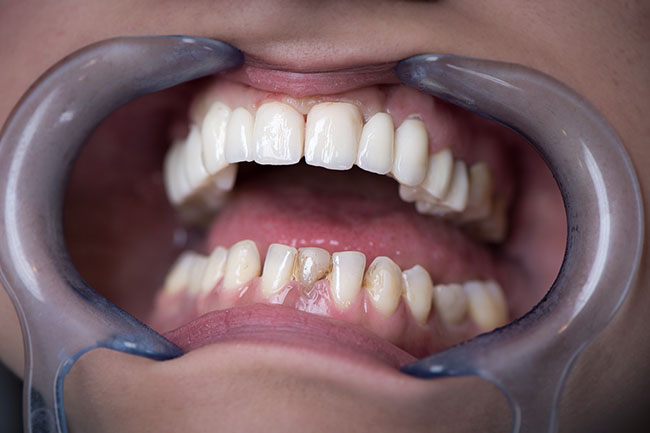 Testimonial:
"I've had troubles with my teeth ever since I was a child, and it had always been very painful, both physically and mentally. I have never felt completely self-confident and that had an effect on my relationships as well. I have received numerous unsuccessful treatments before. When I turned to Forest & Ray, my patient coordinator, Zoltan Mate helped me step by step with kindness and expertise, he organised my first and second trip to Hungary, so that I did not have to worry about absolutely anything. He was there during my treatments as well, supporting me the whole time and helping me understand what was about to happen to my teeth, what options I had. The dentist was also extraordinary. I had a 3 hour-long surgery, which was tiring, I have to admit. but he worked so carefully that I had no problems afterwards at all. Except for the mild pain, which was easy to eliminate with pain-killers. It was after the first appointment that I got home and I had the courage to laugh without covering my mouth. After the second treatment I felt completely happy and free - I can only recommend this clinic to everyone with any kind of dental problems. Their trademarks are expertise, cleanliness, politeness, attentivity and excellent work at a very reasonable price."
Registration
Register for dental checkup!